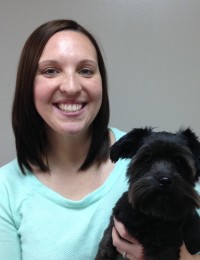 Veterinarian
We were ecstatic to have Dr. Clark join our team of Veterinarians in December of 2014.  Dr. Clark graduated from the University of Missouri, College of Veterinary Medicine in 2012.  Upon graduation, she worked for a mixed animal practice in Kansas City, MO for one year.  She then relocated to Southeast Missouri and worked as an Emergency Veterinarian prior to being employed by LaCroix Pet Hospital.  She has been a GREAT ADDITION to our knowledgeable and compassionate team of Veterinarians.
Dr. Clark states:  "Our patient's range from beloved family members, service animals or even working or hunting animals.  Whether they are search and rescue dogs or the cat that sleeps at your feet, I believe they deserve quality medicine and expertise, as well as care and compassion.  I also believe in client education, and helping owners understand the illness or condition in order to get the patient the best care and comfort level possible.  I believe in preventative medicine, screening for illnesses and preventing treatable diseases, such as heartworms, to help keep pets healthy and living longer with your family."
She is married to Ben Clark.  They became proud parents of their son, "JD" in July of 2015.  Their 4-legged children are "Ginny" (Terrier Mix), "Watson" (Beagle Mix), "Ellie" (Bloodhound), and 4 cats "Tuukka", "Flower", "Rooster" & "John Travolta".  They also have an Appaloosa Horse named "Blue".
Dr. Clark was born & raised in New Hampshire.  She loves the Boston Red Sox, NE Patriots & the Boston Bruins.  She enjoys reading, talking long walks, spending time with her family and horseback riding.